WHAT IS A PRELIMINARY HEARING?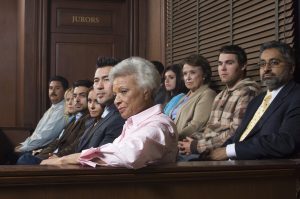 There are many stages of a case—the first being that of a preliminary hearing. The purpose of a preliminary hearing is to determine whether there is sufficient probable cause to believe the defendant committed the crime(s) in the alleged warrant issued against him or her. The "… purpose of a commitment hearing is simply to determine whether there is probable cause to believe the accused guilty of the crime charged, and if so, to bind him over for indictment by the grand jury." Jackson v. State, 225 Ga. 39, 42 (165 SE2d 711) (1969). A preliminary hearing is also referred to as a commitment hearing or a probable cause hearing. Essentially, it's a hearing to decide whether the case will proceed to trial or be dismissed. Guilt or innocence is not determined at a preliminary hearing; only whether there is sufficient evidence to allow a jury or judge to hear the case and then decide guilt or innocence at trial.
Probable cause refers to the requirement that law enforcement must have more than a mere suspicion to arrest someone, conduct a search or seize property related to an alleged crime. The requirement comes from the Fourth Amendment of the U.S. Constitution, which states:
"The right of the people to be secure in their persons, houses, papers, and effects, against unreasonable searches and seizures, shall not be violated, and no Warrants shall issue, but upon probable cause, supported by Oath or affirmation, and particularly describing the place to be searched, and the persons or things to be searched."
In criminal cases, there must be sufficient probable cause for a case to move forward to Superior or State Court for trial. Preliminary hearings are normally heard in Magistrate Court; however, depending on the seriousness of the crime, they can also be held before a Superior Court judge. Defendants are entitled to be represented at a preliminary hearing by private counsel or a court-appointed attorney/public defender. Preliminary hearings are conducted for both misdemeanor and felony cases and the defendant can be in custody or out on bond. Bonds can also be set during a preliminary hearing. Further, a preliminary hearing usually occurs ten to fourteen days after a person has been arrested.
During a preliminary hearing, the State will present evidence that they believe shows probable cause. Most criminal defense attorneys view a preliminary hearing as a proceeding that allows them to preview the State's case against their client and use it to get discovery. Also, defense counsel has the right at a preliminary hearing to cross examine any witness called by the State and may call witnesses themselves; although, it is rare that they do so. Most criminal defense attorneys advise against their client taking the stand at a preliminary hearing as testimony given at a preliminary hearing is sworn and can later be used against the defendant at trial.
The hearing itself, however, is not a trial. Evidentiary rules do apply to a preliminary hearing but are more relaxed than they are in a trial. For instance, hearsay is not admissible in most trials and hearings. However, Georgia courts allow witnesses to present hearsay testimony in preliminary hearings. Most times, the only witness is the arresting officer testifying to events he or she may not have directly observed. Also, in Georgia, the judge is permitted to find probable cause based solely on hearsay evidence.
CAN A DEFENDANT LOSE THE RIGHT TO A PRELIMINARY HEARING?
Unfortunately, yes. Although a defendant has the right to request a preliminary hearing, the defendant can also lose his or her right to a preliminary hearing if the State obtains a grand jury indictment before the hearing is held. In State v. Middlebrooks, 222 S.E.2d 343, 236 Ga. 52 (Ga. 1976), the defendant was arrested and placed in the City of Atlanta jail. He was not taken before a magistrate nor was he afforded a commitment hearing otherwise known as a preliminary hearing. Middlebrooks was indicted by a grand jury and then moved to the custody of the Fulton County Sheriff. He was then appointed counsel. Middlebrooks filed a written motion to quash the indictment for the failure of the State to afford him a commitment hearing. A trial judge conducted a hearing on the motion and overruled it, calling the case for trial. Middlebrooks was ultimately convicted; however, the Georgia Court of Appeals reversed his conviction. The State appealed to the Supreme Court of Georgia.
The Supreme Court of Georgia held that "a preliminary hearing is not a required step in a felony prosecution and that once an indictment is obtained there is no judicial oversight or review of the decision to prosecute because of any failure to hold a commitment hearing. [In] no event will we overturn a conviction on direct appeal or on collateral attack because a commitment hearing was denied appellant."
In some cases, as a tactical move, the State may expediate a case to the grand jury to deprive the defendant of the opportunity to have a preliminary hearing. There are other situations, in which, the State will present a case to a grand jury before the defendant has been arrested for any crime; thus, the accused only learns of the allegations after a grand jury has issued an indictment. In those cases, the defendant also loses his right to a preliminary hearing.
CONTACT BIXON LAW TODAY
Should you hire an attorney for a preliminary hearing? Yes! A preliminary hearing is a crucial stage of your case because if you can demonstrate that the State's evidence against you is insufficient then the charges against you will be dismissed. That's why it's important that you hire an experienced criminal defense attorney. Call Bixon Law today to speak to one of our experienced Georgia criminal defense lawyers who will be on your side, vigorously defend your legal rights and advocate on your behalf to have your case dismissed or the charges against you reduced. As experienced trial attorneys, we are also not afraid to take your case to trial if necessary. We represent clients in Atlanta and throughout the state of Georgia. We are lawyers who are committed to helping people in difficult situations and we invite you to call us at 404-551-5684 for a free consultation today.